Tiramisu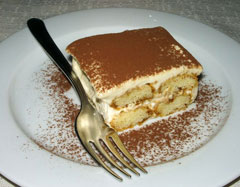 Ingredients
4 cups heavy cream
3/4 cups confectioners' sugar
8 oz whipped cream cheese at room temperature
2 pkgs (7 oz each) lady fingers (sugared if possible)
1/2 pkg vanilla pudding (optional)

coffee mixture
2 T. strong instant coffee dissolved in 1/2 cup water
1 T. coffee liqueur
1/2 cup dutch process unsweetened cocoa for dusting

1. In a bowl of a mixer fitted with a beater, whip heavy cream until stiff.
2. Add confectioners sugar and mix until incorprated. Add whipped cream cheese and mix until smooth. Do not over mix.
3. Combine ingredients for coffee mixture in shallow bowl. Quickly roll each lady finger in the coffee, coating both sides, and place at the bottom of a spring form pan to cover completely.
4. add half the cream
5. Arrange additional undipped ladyfingers upright around the edge of the pan, side by side.
6. dust cocoa over cream
7. Add another layer of lady fingers
8. Pour remaining whipped cream mix
9. Dust with cocoa
10. Cover and refrigerate overnight to let flavors meld.